Killer Instinct 2 Arcade Machine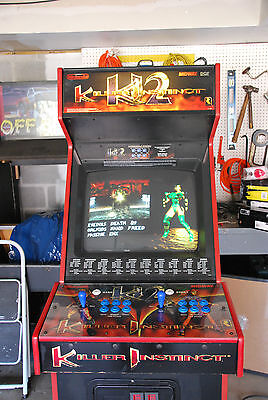 A great machine from my personal collection. Need to sell it to make room for my other games. The game plays great and looks great. There are a few nicks and scratches on it but for its age it looks really good. Machine must be picked up or the buyer must setup shipping. You are welcome to check out the game before pickup but it is sold as is where is. Thanks for looking. Below is the information for Killer Instinct 2 from KLOV.
Manufacturer:
Midway Games
Year:
1996
Type: Videogame
Class: Wide Release
Genre: Fighting
Monitor:
Orientation: Horizontal
Type: Raster: Standard Resolution
CRT: Color
Conversion Class: JAMMA+
Number of Simultaneous Players: 2
Maximum number of Players: 2
Gameplay: Competitive
Control Panel Layout: Multiple Player
Controls:
Joystick: 8-way
Buttons: 6 [Quick Punch|Medium Punch|Fierce Punch|Quick Kick|Medium Kick|Fierce Kick]
Sound: Midway Digital Compression System (DCS) - Amplified Mono
Cabinet Styles:
Click here to contribute another image.
Killer Instinct 2 Control Panel ImageKiller Instinct 2 Side Art ImageKiller Instinct 2 PCB Image
Killer Instinct 2 DescriptionA one- or two-player fighting game
that takes place in the past. Choose as one of ten characters and
attempt to defeat the evil Gargos. The game play has a heavy emphasis on
chain combos.
Midway Games, the Killer Instinct 2 maker, released 45
different machines in our database under this trade name, starting in
1972.
Other machines made by Midway Games during the time period
Killer Instinct 2 was produced include NBA Hangtime, NBA Maximum
Hangtime, War Gods, Cruis'n World, Mortal Kombat 4, 2 On 2 Open Ice
Challenge, WWF Wrestle Mania, Mortal Kombat 3, Ultimate Mortal Kombat 3,
and Revolution X.
Cabinet InformationThe side art features Orchid on both sides with a redish black and flame background.Cabinet Style Weights and MeasuresTypeUpright/Standard
Cheats, Tricks, Bugs, and Easter EggsAt the character
selection screen, hold Up and press Fierce Punch, Medium Punch, Medium
Kick, Fierce Kick, Medium Punch, Quick Punch, Quick Kick and then Medium
Kick. You will hear a sound and Gargos will appear as a selectable
character.
Press Up and Start on the character selection screen for Random Select.
On
the character selection screen you can choose the speed of the game
with various codes. They must be done before choosing your character.
Down and any medium attack for turbo mode, Down and any fierce attack
for ultra turbo and Down and either quick attack to go back to regular
speed.
You can choose the stage and background music by quickly
using a code after selecting your characters. The first player selects
the level and the second player selects the music. Here is the list of
the codes:
Jago's Bridge: Down and Quick Punch
Gargos' Dungeon: Down and Medium Punch
T.J. Combo's Street: Down and Fierce Punch
Kim Wu's Dojo: Down and Quick Kick
Spinal's Ship (outside): Down and Medium Kick
Spinal's Ship (inside): Down and Fierce Kick
Sabrewulf's Castle: Up and Quick Punch
Maya's Jungle: Up and Medium Punch
Glacius' Spaceship: Up and Fierce Punch
Tusk's Stone Henge: Up and Quick Kick
Fulgore's Museum: Up and Medium Kick
Orchid's Helipad: Up and Fierce Kick
Sky Stage: Down and Medium Kick (both players must do this)
ConversionThe hard drive and JAMMA PCB from this game can be swapped with those from Killer Instinct without changing the control panel.Game IntroductionEyedol's
death at the hands of Orchid in the previous game accidently set off a
time warp sending everyone back 2000 years and allowed Gargos to escape
from Limbo. Now, 2000 years in the past, warriors that survived Killer Instinct
(1) and several new faces fight for the right to face the Demon Lord
Gargos in combat. Some, like T.J. Combo, just want to get home. Others,
like Tusk, want to bring an end to Gargos and his reign of evil. This
time there is no tournament or prize money, just a fight to the finish
with the fate of the future hanging in the balance.Game PlayAs
with many fighters, achieve two wins and the winner continues on. But
instead of alternating fights, the loser's power is restored while the
winner's power stays the same until knocked out. The game engine is a
lot like the original Killer Instinct but improvements have added
depth to the game. A new power meter was added to store energy for
super moves and super linkers. The auto doubles have been included
again, but there is now an option for manual combos. There are many new
moves and changes made to the old characters. At the end of the fight
you have the option to finish off your opponent much like Mortal Kombat.MiscellaneousLICENSOR: Nintendo
DEVELOPER: Rareware
DISTRIBUTOR: MidwayVAPS Arcade/Coin-Op Killer Instinct 2 CensusThere are 7,289 members of the Video Arcade Preservation Society / Vintage Arcade Preservation Society, 5,629 whom participate in our arcade census project of games owned, wanted, or for sale. Census data currently includes 89,849 machines (4,704 unique titles).
Very Common - There are 93 known instances of this machine owned by Killer Instinct 2 collectors
who are members. Of these, 45 of them are original dedicated machines,
4 of them are conversions in which game circuit boards (and possibly
cabinet graphics) have been placed in (and on) another game cabinet, and
43 of them are only circuit boards which a collector could put into a
generic case if desired.
For Sale - There are 7 VAPS members with Killer Instinct 2 machines for sale. There are 3 VAPS members with extra Killer Instinct 2 circuit boards for sale.
Wanted - Popular - There are 13 VAPS members currently looking for Killer Instinct 2. There is one VAPS member looking for a Killer Instinct 2 circuit board set.
This game ranks a 34 on a scale out of 100 (100 = most often seen, 1=least common) in popularity based on census ownership records.
This game ranks a 28 on a scale out of 100 (100 = most often wanted, 1=least common) in popularity based on census want list records.
Rarity is NOT necessarily an indication of value. [More Information]
TechnicalCPU: R4600 RISC processor
SOUND: ADSP2150
The game uses the same hardware as the original Killer Instinct.
TriviaThe game actually features multiple endings per character depending on who you kill or do not kill during the game.
Orchid is the only character in the game to have only one Ultimate Combo.
It is possible to do infinite combos if you take advantage of glitches.